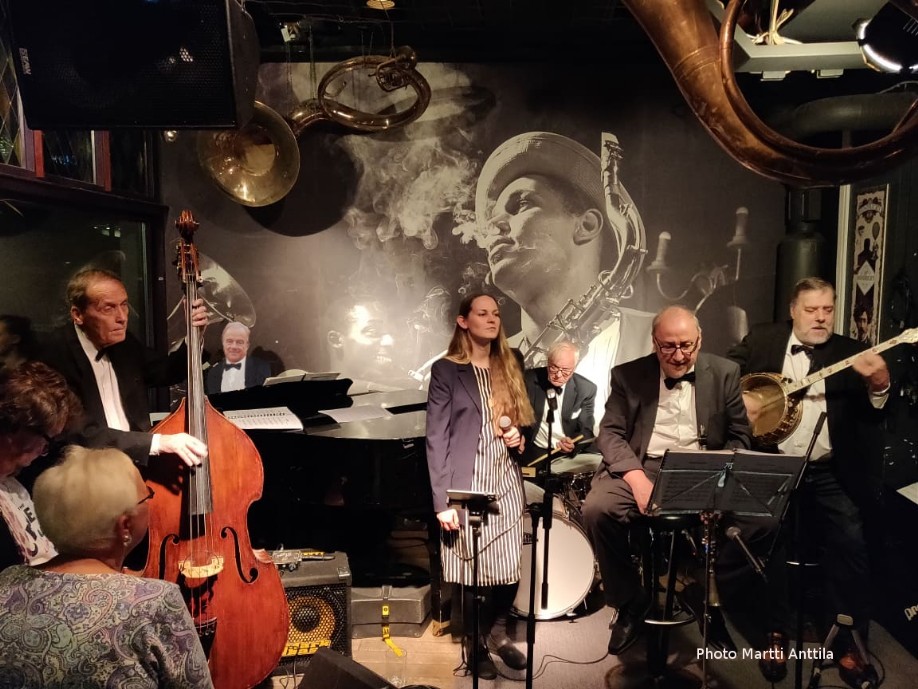 Birger's Ragtime Band voc. Carolina Wendelin

Birger's Ragtime Band was founded in April 3rd, 2011 with the mission to play traditional New Orleans jazz in all its forms like ragtime, gospels, marches, blues namely, everything that matters in traditional New Orleans jazz.
The founding members were Birger Lindstrom clarinet, Robert de Godzinsky piano, Philip Hedlund banjo and voc., Jussi Sipilä bass and Sven-Erik Krogius drums and washboard. Over the years the line-up has varied and today Jukka Järvelä plays the banjo and Pekka Sarmanto plays the bass. A big change happened when Charlotta Kerbs joined the band as a vocalist.
Today, Carolina Wendelin is the vocalist in the band.
Birger's Ragtime Band performs at jazz festivals, jazz clubs, church concerts, conferences, cocktail parties, Gatsby parties, birthday parties, dance events, weddings etc. In addition, the band also arranges travels to other countries and every time they take a busload of fans with them. Last time, in August 2016 the goal of the trip was the biggest traditional jazz festival in Sweden, namely the Hällevik Tradjazz Festival. Other festivals the band participated in include Baltic Jazz, Otava Happy Jazz and Tyyki Jazz in Finland and the New Orleans Festival in Mannaminne, Kramfors in Sweden. The band has also performed in Spain. In February 2015, the band traveled to Northern Sweden on tour and played church concerts in Kiruna and Pajala. The band has also made two CD records.
Testimonials:
Birger's Ragtime Band has also received reviews from Otava Happy Jazz Festival in the Finnish online magazine JazzRytmit. Editor-in-Chief Osku Rajala wrote, among other things: "A nice, well-played set that took many thoughts into nostalgia for the early years of jazz. The show of Birger's Ragtime Band was the perfect event namely, Happy Jazz."
The project leader for the Hällevik Tradjazz Festival Rune Källén wrote: "Hello Birger! Thank you for your great contribution in Hällevik. Super!"
Kate Wimmer at the Fritzels jazz club, Bourbon St. New Orleans wrote in an email "Thank you so much guys, you're welcome to come back anytime!"
Pielavesi-Keitele Newspaper: "The best music ever heard in Keitele."


The band can perform its shows in English, Swedish and Finnish.
Birger's Ragtime Band voc.
Carolina Wendelin
Birger's Ragtime Band perustettiin 3. huhtikuuta 2011 päämääränä soittaa perinteistä New Orleans jazzia kaikissa sen muodoissa kuten ragtime-musiikkia, gospeleja, marsseja, bluesia siis kaikkea mitä asiaan kuuluu.
Perustavat jäsenet olivat Birger Lindström, klarinetti, Robert de Godzinsky, piano, Philip Hedlund, banjo ja laulu, Jussi Sipilä, basso ja Sven-Erik Krogius, rummut ja washboard. Vuosien kuluessa kokoonpano on vaihdellut ja tänään Jukka Järvelä soitta banjoa ja Pekka Sarmanto bassoa. Suuri muutos tapahtui kun Charlotta Kerbs liittyi bändiin laulusolistiksi. Tänään Carolina Wendelin toimii bändin vokalistina.
Birger's Ragtime Band esiintyy jazzfestivaaleilla, jazzklubeilla, kirkkokonserteissa, konferenseissa, messuilla, kokkareilla, Gatsby juhlissa, syntymäpäiväjuhlissa, tanssitilaisuuksissa, häissä ym. Sen lisäksi bändi on järjestänyt matkoja ulkomaille ja joka kerta ottanut bussilastillisen faneja mukaan. Viime kerralla, elokuussa 2016, matkan päämääränä oli Ruotsin suurin perinteisen jazzin festivaali, nimittäin Hällevik Tradjazz Festival. Muita festivaaleja joilla bändi on soittanut ovat esimerkiksi Baltic Jazz, Otava Happy Jazz ja Tyyki Jazz sekä New Orleans Jazz Festival Mannaminnessä, Ruotsissa. Bändi on esiintynyt myös Espanjassa. Helmikuussa 2015 Birger's Ragtime Band lähti kiertueelle pohjoisruotsiin soittaen kirkkokonsertin mm. Kiirunan ja Pajalan kirkoissa. Bändi on myös tehnyt kaksi levyä.
Palautetta: Otavan Happy Jazzeista JazzRytmeissä. Osku Rajala kirjoitti mm.: "Mukavan muikea, hyvin soitettu kokonaisuus, joka vei monien mietteet tuonne jazzin alkuvuosien nostalgiaan. Birger's Ragtime Bandin esitys sykki täydellisesti tapahtuman teemaa eli Happy Jazzia."

Hällevik Tradjazz Festivaalin projektipäällikkö, Rune Källén kirjoitti: "Terve Birger! Kiitos suuremmoisesta panoksestanne Hällevikissä: Superhyvä!
Kate Wimmer Fritzelsin jazz klubilla, Bourbon Streetillä New Orleansissa kirjoitti sähköpostissa "Kiitos paljon, olette tervetulleita takaisin koska tahansa!"
Pielavesi-Keitele-lehti: "Parasta musiikkia, mitä Keiteleellä koskaan on kuultu."
Ohjelmamme sujuu suomeksi, ruotsiksi ja englanniksi.
Birger's Ragtime Band voc.
Carolina Wendelin
Birger's Ragtime Band bildades söndagen 3 april 2011 med målsättningen att spela glad traditionell New Orleans jazz i alla dess former såsom ragtime, gospels, marscher, blues dvs allt som hör till saken.
De grundande medlemmarna var Birger Lindström, klarinett, Robert de Godzinsky, piano, Philip Hedlund, banjo och sång, Jussi Sipilä, bas och Sven Erik Krogius, trummor och washboard. Under årens lopp har sammansättningen varierat och i dag spelar Jukka Järvelä banjo och Pekka Sarmanto bas. En stor förändring skedde i bandet då Charlotta Kerbs kom med som sångsolist. I dag är Carolina Wendelin vocalist i bandet.
Birger's Ragtime Band spelar på jazzfestivaler, jazzklubbar, kyrkokonserter, konferenser, mässor, cocktailparties, Gatsbyfester, födelsedagsfester, danstillställningar, bröllop osv. Dessutom har bandet ordnat resor till jazzfestivaler utomlands och varje gång tagit en busslast med fans med sig. Den senaste resan gick till Sveriges största jazzfestival i traditionell jazz nämligen Tradjazzfestivalen i Hällevik i augusti 2016. Övriga festivaler bandet deltagit i är t.ex Baltic Jazz, Otava Happy Jazz och Tyyki Jazz i Finland samt New Orleans Festival i Mannaminne, Kramfors i Sverige. Bandet har också uppträtt i Spanien. I februari 2015 for bandet till norra Sverige på turné och spelade kyrkokonserter i Kiruna och Pajala. Bandet har också gjort två skivor.
Utvärdering: Otava Happy Jazz Festival av JazzRytmit. Osku Rajala skrev bl.a: "

En läcker, välspelad helhet. Mångens tanke flög nostalgiskt till jazzmusikens begynnelseår. Birger's Ragtime Band pulserade fullständigt i den anda tillställningen eftersträvade nämligen Happy Jazz.

"
Projektledaren för Hällevik Tradjazz Festival Rune Källén skrev: "Hallå Birger! Tack för er storartade insats i Hällevik. Superbra!"
Kate Wimmer på Fritzels jazz klubb, Bourbon St. New Orleans skrev i ett email "Tack så mycket, ni är välkomna tillbaka när som helst!"
Pielavesi-Keitele-tidningen: "Den bästa musiken, som någonsin har hörts i Keitele."
Bandet kan dra shower på svenska, finska och engelska.